A question I frequently face has to do with Account Based Marketing or ABM. Some colleagues unfamiliar with HubSpot, as well as zealous competing tech providers of course, tend to assume it's not designed to work that way. Based on a few years of empirical findings, I disagree.
Let me highlight 4 favourite ways I use HubSpot when using Account Based Marketing to target critical companies and verticals..
Successful Targeting of Critical Accounts Requires Managing An Aligned Marketing, Sales & Services Process
HubSpot provides solid ABM functionalities, but unlike platforms confined solely to ABM, it allows users to engage in a variety of practices as needs dictate. Inbound marketing is an obvious example. More than that, however, with its flywheel philosophy that integrates marketing, sales and services, HubSpot helps customers cater to customer needs across the experience horizon.
HubSpot Equals Inbound Marketing, Right?
Let's recap some key terminology: HubSpot is a pioneer of inbound marketing, which in its most undiluted form is a technique for drawing customers to products and services via content marketing, social media marketing and search engine optimisation.
Considering today's platform, with its Sales and Services Hubs, HubSpot's original ethos, whereby marketing always strives to be relevant, resonant, personalised, and buyer-centric, modern inbound applies equally well across the customer journey to sales and services.
Account Based Marketing is described as a targeted approach to B2B Enterprise Marketing -- one that involves honing on key accounts, creating hyper-targeted content and ensuing campaigns, as well as delivering a personalised experience to companies designated business critical. The core tenet doesn't appear to be too far off from what Inbound preaches? The two methodologies are in fact not exclusionary, but in many instances – if not mutually beneficial – at least spiritually related.
An ABM Process Sure Looks Familiar?
Let's first look at what a typical ABM process should entail. Actually, from defining strategy to creating a plan including channels and formats, the ABM process is similar to its Inbound sibling: The major difference is that one needs to first concentrate on defining Buyer Profiles, not Personas. Buyer Personas help define the different buying patterns of companies within your ideal Buyer Profile.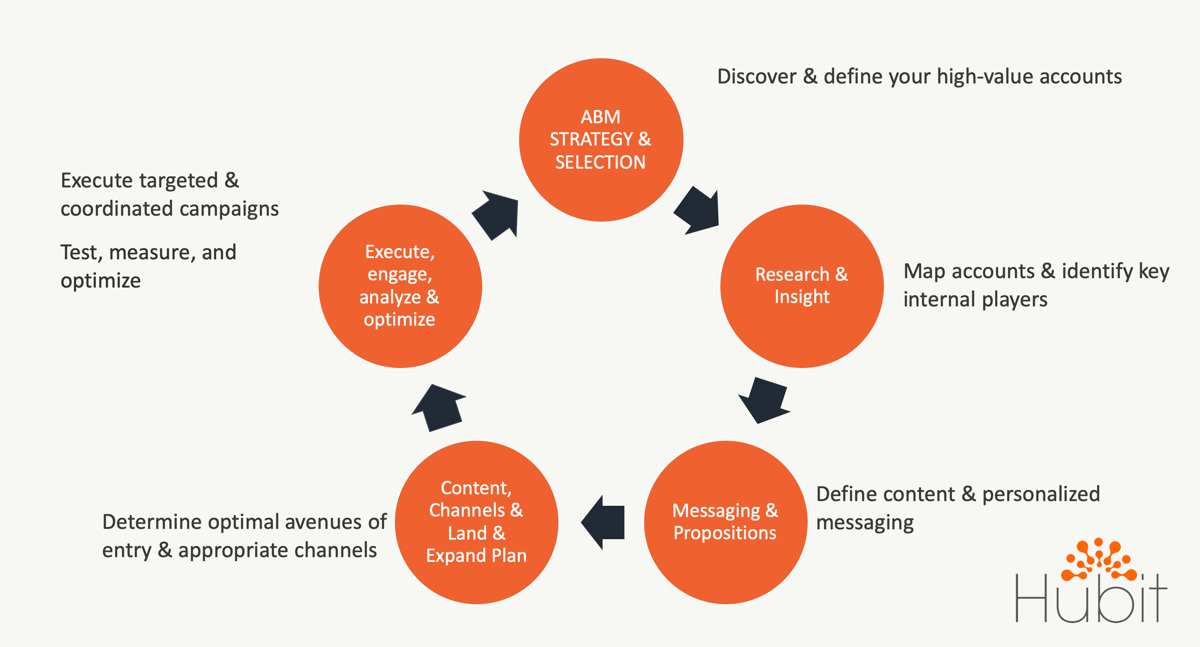 Top 4 Ways to Use HubSpot for ABM Marketing
Number #1
Store, enrich and gather ABM-relevant data and information
This is really the main requirement for targeting and segmenting key accounts. I use the HubSpot CRM to organize everything we know about our contacts and their companies in a single place. I store data in custom fields, browse a timeline of past interactions, and when the time comes communicate with contacts from a single unified view. I segment prospect contacts and companies based on activity, ABM qualification criteria, list membership etc.
Number #2
Track ABM prospect visits to your site in real time, determine engagement levels and set up custom email notifications for your team.
Once I have a clear picture of the companies I am targeting, a great way to see if our campaign is working is to (use automation and) monitor prospect visits. I sort prospects using dozens of different filtering criteria like geography, company size, number of visits, and most importantly any of the specific properties as identified in our ABM strategy.
Number #3
Craft personalised emails and sales automation sequences for each ABM target.
In HubSpot I love creating highly targeted (like an industry vertical) personal email templates that allow me to quickly reach out in very specific ways to decision makers in ABM target companies. I use lead scoring to decipher lifecycle stage and utilize the most relevant templates to ensure value add. With HubSpot's Sales Sequences I tee up a timed series of emails and accompanying tasks to make sure each target account's lead is managed appropriately.
Number #4
Use targeted Chats to engage key companies and individuals. Make your website specific to mission critical ABM companies with Smart Content.
This is where it gets fun! I can easily set up a chat (or use chatbots) that are tailored to my specific ABM strategy. So, if someone on, for example, a list of companies (or a particular list of individuals within those companies) comes looking around on our website or meanders onto a blog, I can politely intervene using personalised chat functionality.
Often enough I also make sure a Smart Content Area on my website shows the visitor precisely the most relevant content for him or her. The chat conversations get logged in an ABM-specific inbox and, just to be sure, I also use sales notifications and triggers to make sure our staff is ready to roll.
Need to Resonate with Company X?
ABM makes sense. It works. Our customers resort to it when their target market (in terms of company numbers) is limited – just a few accounts make the difference and must be won. At Hubit we use it successfully also: It demonstrates ROI, shortens sales cycles, helps aligns sales and marketing and, finally, helps us spend more time and effort on the companies and people that count.
HubSpot Enables ABM
A competitive company probably uses a variety of techniques to win. At Hubit we practice what we preach: Our inbound lead generation and nurturing activities create scalable dividends (grinding away each day of the week), whilst ABM campaigns hyper target critical accounts in coordinated sprints.
In case you missed it, we use HubSpot and recommend that any company looking to amplify their ABM activities assess the benefits of this easy to use, value enhancing platform.
---